The Mount Olympus is amazing. Now I know why the Gods chose this place 😄 This photo was taken in a fun moment before my class in the mountain.
Our Greek friends said that this place not very popular but if you are around this area (Katerini; it is 40 minutes bus drive from Thessaloniki) you should definitely visit it.
Being in the nature and connecting with its energy gives you awareness. Think about it; when you see a beautiful place, beautiful sunset etc. for a moment everything stops; your mind stops. In that brief moment you connect with everything; you become "one".
These day we are spending a lot of time indoors and with technology. It makes us to loose this connection. So it's always good to spend time in the nature when you had the opportunity 😊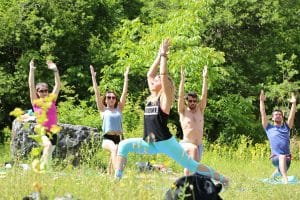 And this is a photo from my "Awesome" workshop under a beautiful sky with beautiful yogis. My workshop was about that we are in fact awesome inside but because our minds we keep losing the connection with our true selves.
There is no charge for awesomeness
A wise man said once "There is no charge for awesomeness." Actually it is Kung Fu panda who said that but it's true. 😄🐼 Don't forget the awesomes inside you!