Now it's time to talk about India. Actually about Kochi because India is a huge country. The first time i came here the distance i thought would be 10 minutes ended up being 2 hours! So if you want to travel all around India consider to have long trips between places. In India everything is different depending on the area; the food, the weather, life and even language. Again the first time here I was very surprised to see two Indian people talk in English because they speak different Indian languages. I will be talkin about Kochi in my wiritings which is in "Kerala" region.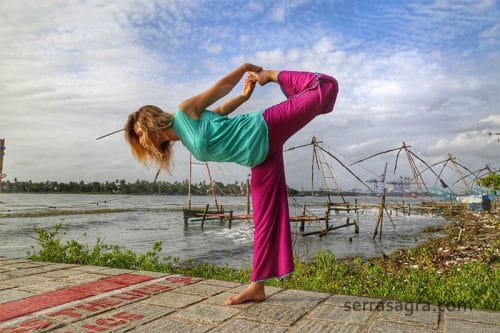 There is a big demand to yoga in India and as a result it's become a big "business". Many people from all around the world with the intention of improving themselves come here for different kinds of practices; yoga TT's, meditation, to discover their selves etc. But because of the now existing business part of yoga, you have to make a really good research before. For instance, someone I know stayed in a well known ashram in Kerala in the past weeks to learn about the old scripture. She told, she went back without learning anything because in the classes that were supposed to talk about Sanskrit scriptures, they talked about popular subjects like relationships, family, positive thinking. Because of the increasing yoga business, good research is essential to find the proper place for your purpose. While some places offer only superficial training, the others give you exactly what you are looking for.
Aside yoga, India is a place that has many amazing experiences to offer you. Just being here is enough actually 🙂 India is the only country I have been and cannot tell others what it is like. Indian people are kind, gentle and easy going. Although there is tension for foreigners in traffic, there is no tension at all in life. Is it a country for everybody; of course not. Since it's very different, you may either like this difference or not like it because it may take you too much out of your comfort zone. You need to see India for yourself.