Once again landed in Kochi Airport…The first time I was here it was high season and it took me almost 1.5 hours to get out of the airport. Now it's monsoon season and there wasn't even line at the passport control. Because of the heavy rain people don't prefer to come here at this season. When you first start going around you don't want it to rain but when it doesn't rain the weather becomes so stuffy so you start praying for rain 🙂 And I just love the monsoon rain. It starts so suddenly, it is very so powerful and it so nice to watch.
Back to the airport. Once you passed the control there are exchange places where you can get Indian Rupees but make sure to check the rates on the Internet before you land so you have an idea if they are offering you a good rate or not. And if you are going to exchange more you can ask for a better rate. Then you can get out of the airport. Once you are out, walk a little bit straight then make a right and walk about 20 meters. You will see the airport bus to Fort Kochi on your left side if it's time. If it's not there you can wait. I think there is a bus every half an hour starting at 7 am in the morning and until 6 or 8 pm in the evening. You can check the bus schedule online. There are many crazy buses in India but this one is actually a very nice one with A/C and it's the cheapest way to reach the city –It's about 100 Rupees per person- and it takes 1.5-2 hours depending on the traffic. (This was what thought will take 10 minutes :D) If you are going to travel somewhere else in Kerala by bus, you can still take this bus since it stops at the Ernakulam Bus Station. (I say station but it's a small place and from there you take a bus option depending on your luck. For instance; I took something we may call a metal box instead of a bus for 4 hours in 40 Degree Celsius, stuck between 2 Indian ladies :D)
If you want to take a taxi then before you get out of the airport then you can find the prepaid taxi place around exchange offices. You go there, tell where you are going and pay there; not the taxi driver. If you choose a taxi with AC it will cost more. As for 2016 the taxi rate from airport to Fort Kochi is around 1200 Rupees.
There are hotels but there are many homestays in Kochi if you want a cheaper option. Most of them are operated by Indian families and are very clean. Staying in Fort Kochi is more touristic but it's better so you can just walk around.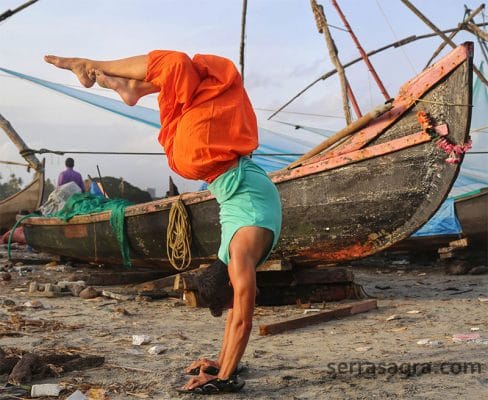 When you are in Kerala you see the "God's Own Country!" sign everywhere. When I asked the locals here they didn't really know why 🙂 Apparently this was first used as a tourism add for Kerala in 1989 and it really worked well. All the tourists wanted to see the "God's Own Country". And they all keep coming back because they liked the experience. But there is also another myth. Parasurama who is a warrior sage and also an avatar of Hindu God Mahavishnu threw his battle axe from Kanyakumari towards the north of the ocean. And as a result of this, Kerala land arose and retrieved from the water. I like this story more than the add story 😀 If the advertising agency was also inspired by this is, unknown.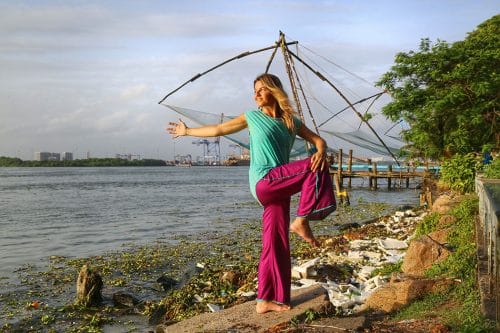 One of the main sights in Kochi is the Chinese Fishing Nets which is an unusual method of fishing. These nets is believed to have been introduced in Kochi by Chinese explorer Zheng He, from the court of the Kublai Khan between 1350 and 1450 AD.
It is operated from the shore and made of teak wood and bamboo poles, work on the principle of balance. The structure is about 10 meters high and each fishing net spreads to about 20 meters over the water and is operated by more than four fishermen. It is made in a way that the weight of a man walking on the main plank is enough to cause the net descend into the sea. Minimum a group of 4 fishermen operates one net. They lower the net in the water and keep it there for a short time like 5 minutes and then they it out. They make a modest money from what they catch. The fishermen I talked 2 years ago told me because they don't make a lot of money, less and less people continue to do this work with each day.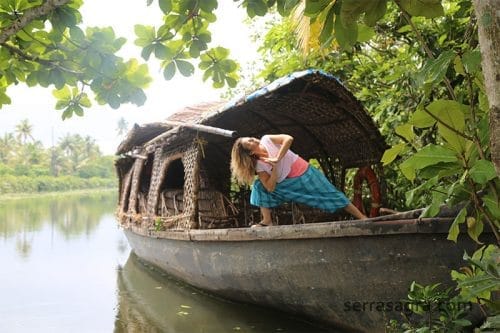 A must do thing in Kochi is Backwater trip. This is a ride on a country boat through the backwaters (a part of a river not reached by the current, where the water is stagnant). First you start from a wide place with the boat but as you continue you go through narrower areas surrounded with amazing, lush greenery, many small islands scattered. You see the houses and people living on those small islands, going around with their small wooden boats or catching fish or doing something else in the middle of water when you pass them by.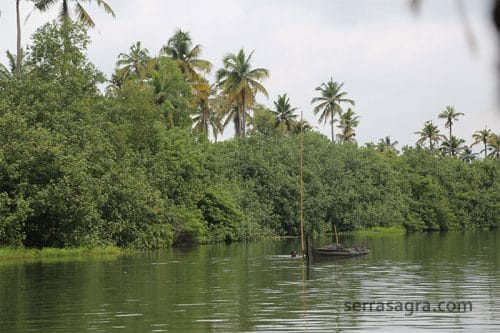 There is no engine working; two guys are actually pushing the boat with a long stick. Therefore you go close to the shore so they can push the boat from the shore or from the bottom of the sea. First it feels soooo slow; you feel like you are not moving at all. But then something happens while watching the guy moving so slowly without any rush with a rhythm and the nature around you; it all literally mesmerize you.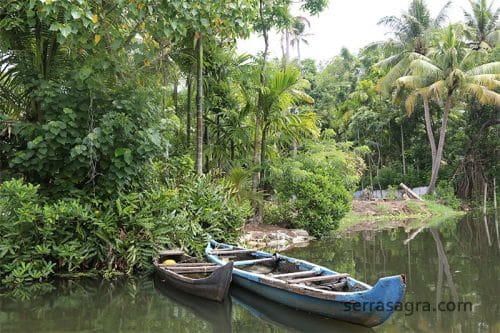 One by one everyone get quiet without even noticing it. There is only the sound of the nature. It is like meditation. You don't think, your mind stops and you feel really connected with everything.
Then they take you to a small island where there is basically nothing and serve you a delicious Kerala lunch on banana leafs. After lunch it's time to go back but the heat, the quietness, the peace, food; most of us fell asleep 😀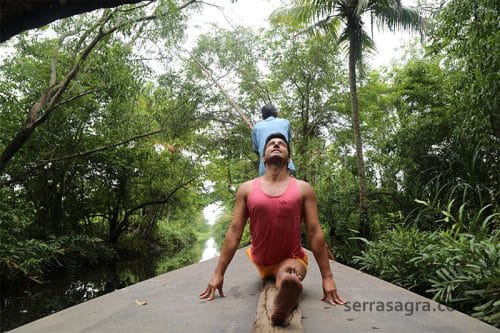 You can take the backwater trip for different durations. We took it for 7 hours but when it says 7 hours it also includes the driving time to the boat and back which was 2 hours all together. We took the tour in Vaikom; 30 kms away from Kochi. There are actually nicer boats with bedrooms for trips longer (1-3 days long).
But I definitely recommend the trip; it was a very very relaxing experiences…
[nggallery id=5]