And the last must do thing in Kochi that I would write about is Kathakali which is a classical Indian dance-drama. It is originated in Kerala during the 17th century and developed in time. They have amazing make-ups, costumes and music. The stories are religious in nature. They give you a paper before the show telling about that day's story and characters. Every day they present another story.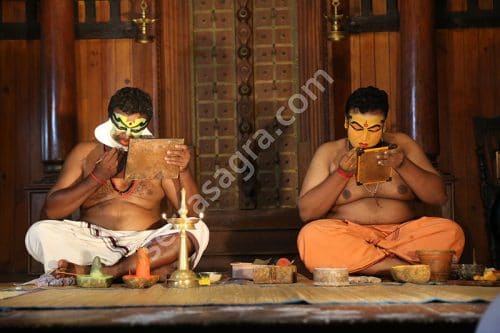 When you go to see the play the first hour you can watch them put their make-up on. It takes an hour but you don't even realize it because it is magical to see the transformation. In the make-up they use all natural colors. For instance to get the yellow color they take the yellow color stone and mix it with coconut oil.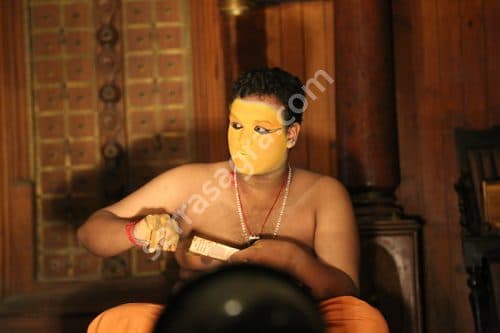 To make their eyes red, they take a seed and rub it for 10 minutes and before the play they put it in their eyes for 2 minutes then they take it out. You can tell what kind of a character it is according to the make up; for instance green means a very good character, yellow means female.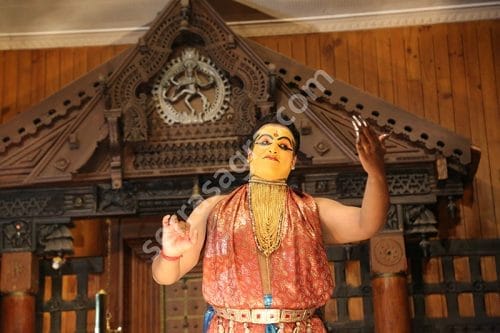 In Kathakali there is no talking, the story is presented by hand movements called mudras, facial expressions called rasas and bodily movement. When they finish their make up they start to demonstrate the eye and body movements and the gestures so you can understand the story.
Kathakali training for acting, singing and drumming is 6 years long and for make 4 years. Dancers also have special practice classes to learn to control their eye movements.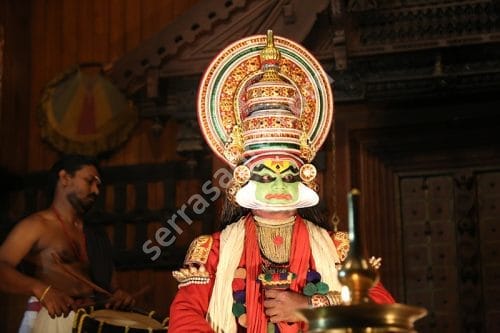 After the demonstration of the gestures, two guys held a big curtain in front of us and the dancers entered the stage with their make-up and costume. When they let the curtain down, it is really charming to see it all in front of you; the costumes, make-up and of course with the music.
[nggallery id=5]